Model NO.: AT-HD6004

Video Input/Output: WiFi Connection with PC or Smartphone

Audio Input/Output: 4/8 Channel

Remote Control: Without Remote Control

WiFi: Yes

Recording Rate: 1920×1080, 30fps Per Channel Full Realtime

Storage: Internal HDD (Price Not Include HDD)

Power Input: DC 8-32 V

GPS Tracking: Optional

3G/4G Live Monitoring: Optional

Trademark: ANTED

Transport Package: 18PCS Per Carton, 26kgs

Specification: CE/FCC/RoHS

Origin: China

HS Code: 85219090

Model NO.: AT-HD6004

Video Input/Output: WiFi Connection with PC or Smartphone

Audio Input/Output: 4/8 Channel

Remote Control: Without Remote Control

WiFi: Yes

Recording Rate: 1920×1080, 30fps Per Channel Full Realtime

Storage: Internal HDD (Price Not Include HDD)

Power Input: DC 8-32 V

GPS Tracking: Optional

3G/4G Live Monitoring: Optional

Trademark: ANTED

Transport Package: 18PCS Per Carton, 26kgs

Specification: CE/FCC/RoHS

Origin: China

HS Code: 85219090

Best 3G/4G Vehicle CCTV Solutions for car bus truck taxi

This system can be used for all kinds of vehicles such as Taxi, bus, coach bus, public bus, minibus, ambulance, TAXI, official vehicles, police cars, trucks, semi-trailers, engineering vehicles, school buses, pickup trucks, cement trucks, excavators, concrete mixers, private cars, road cleaning vehicles, sprinkler, patrol cars, sanitation trucks, garbage trucks, Armored vehicles, trains, subway, dump trucks, agricultural harvesting vehicles, military vehicles, ships, yachts, etc.

The 4/8CH HD Mobile DVR allows up to 4/8 true high definition (1920*1080) cameras to record the highest video quality. Each camera supports up to 1080p 30fps, ideal for capturing vehicle plate number.

 

Video live view or download through WiFi (built-in)

Administrative personnel can use a laptop/smart phone/iPad to connect to the DVR to view and/or download videos. Allow three authorization levels for security access.



Highlighted features with 3G/4G network

. Remotely Live view & GPS tracking on Google Map;

. GPS track playback;

. Geo-fencing with optional GPS receiver;

. One picture will be sent to server as well as email alert when an alarm is triggered;

. Reports for Speed, Alarm, Stop, Geo-fencing, Data flow, etc.

 

 

The smallest size for a 4/8-Channel Hard Drive DVR

Size of the 4/8CH HD Mobile DVR is very compact, only 5 . 63 "x 5.2" x 1.18 " Â ( 14.3cm x 13.2cm x 3cm ), allowing for exceptional versatility in mounting and installation. With a compact footprint and solid-state design, the 1080P High Definition Bus Camera Recorder can be mounted almost anywhere in any orientation.

 

 

Only 1.08 per unit with case!!

Weight of the 4/8CH HD Mobile DVR is very light due to its compact size. This will greatly save you shipping & duty costs, make your selling price unbeatable.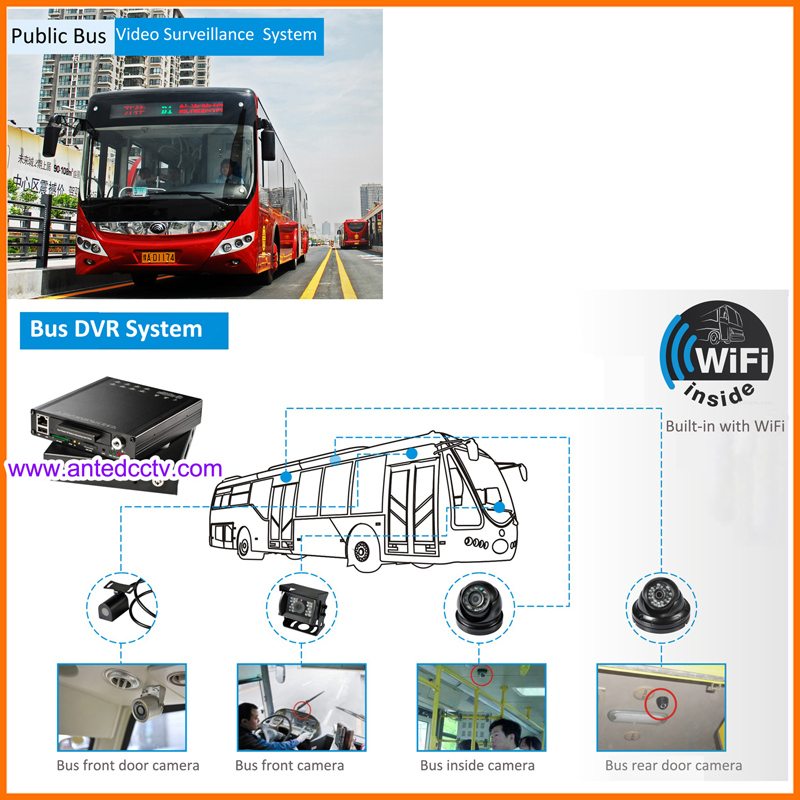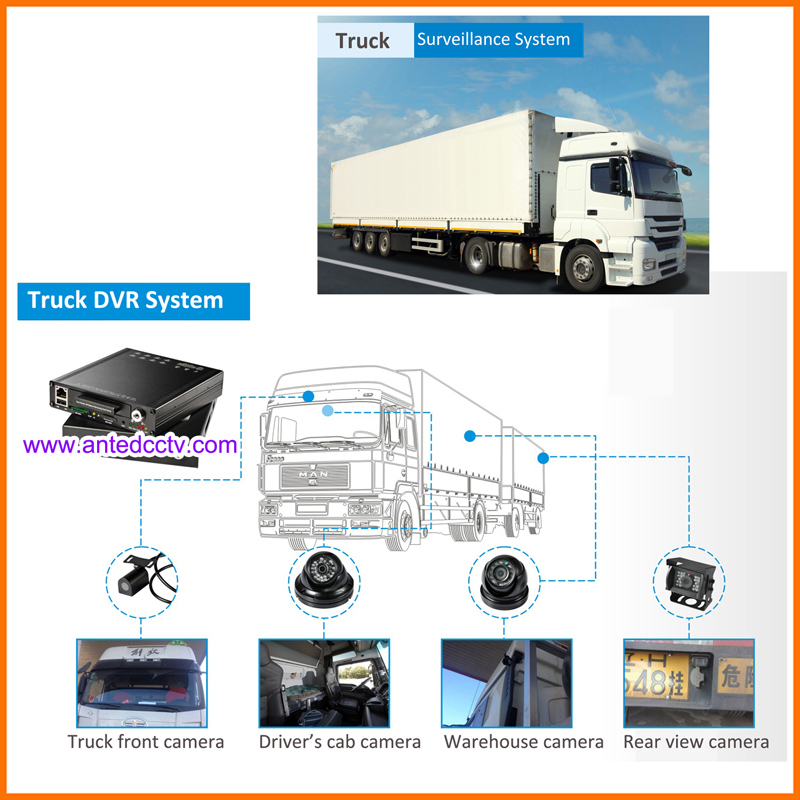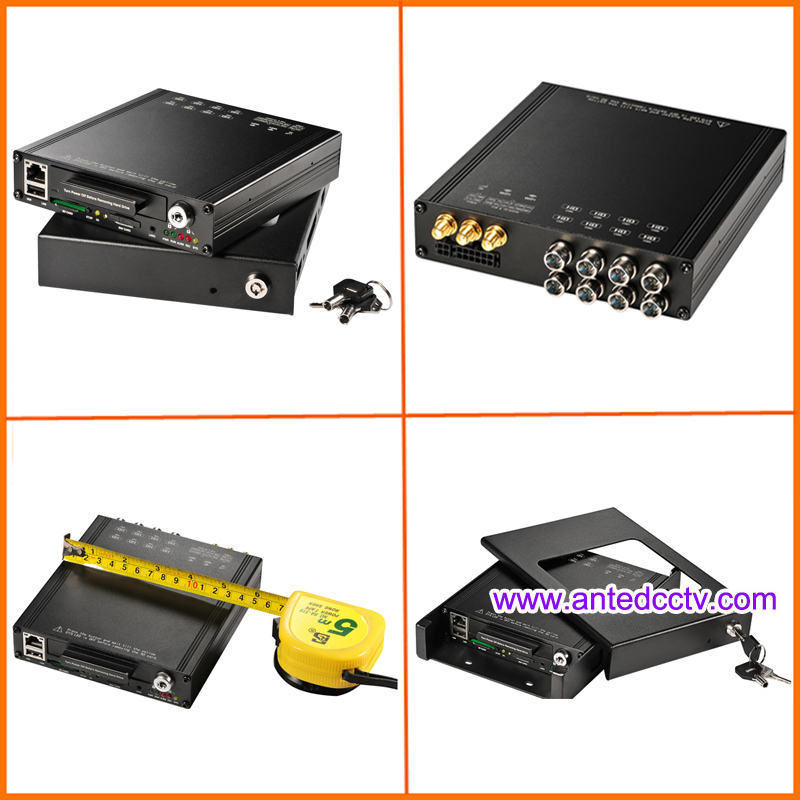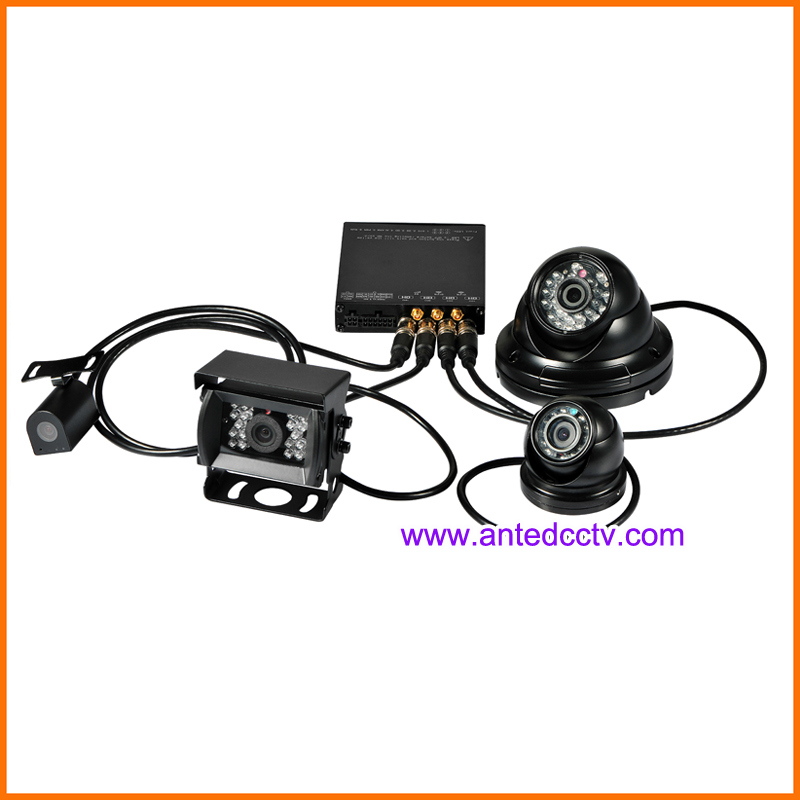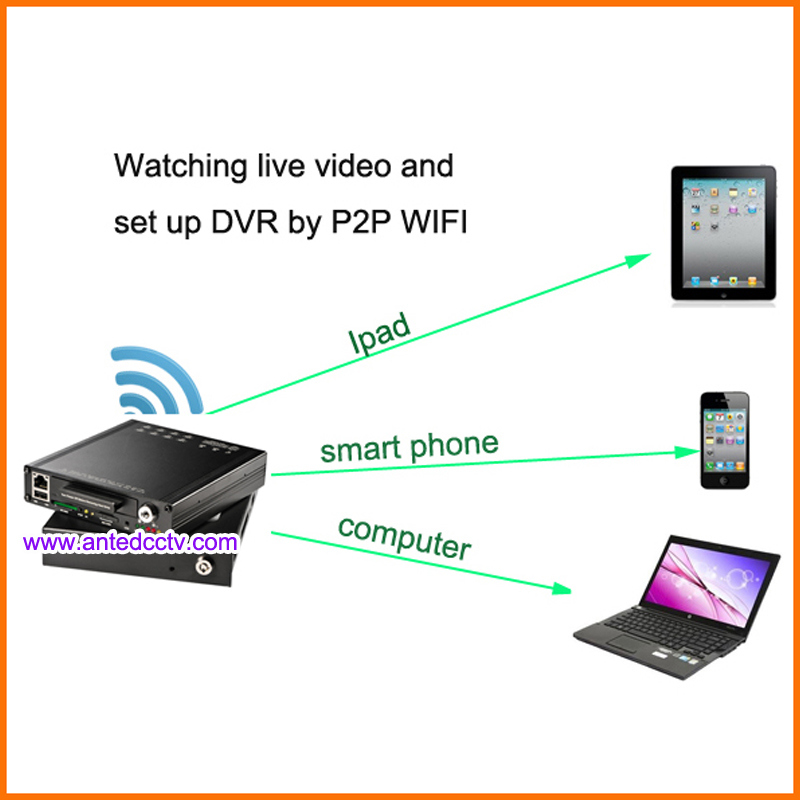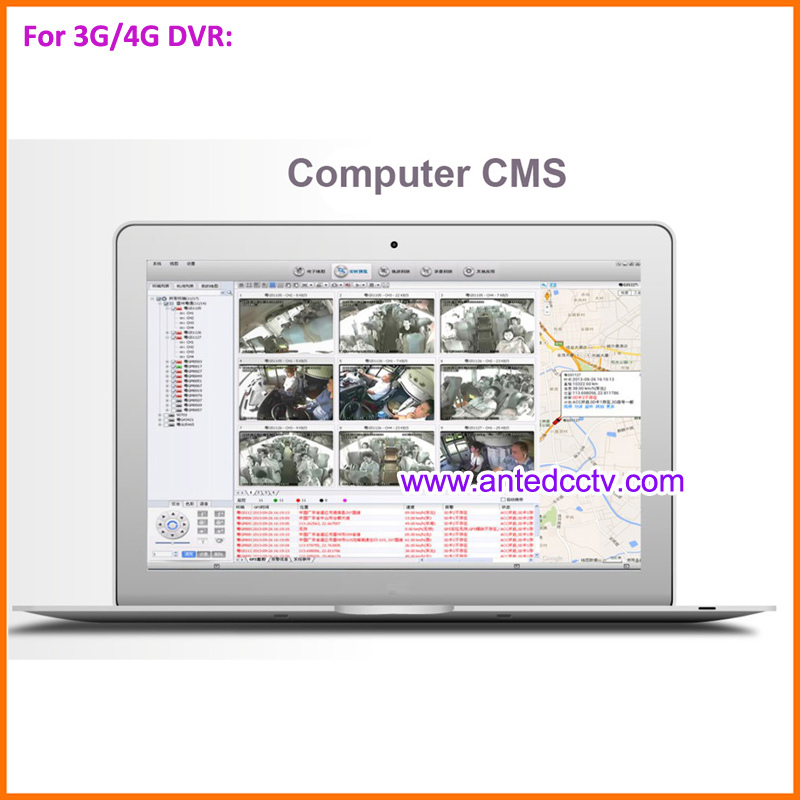 SPECIFICATIONS of 4/ 8 channel Hard Drive Mobile DVR
Model
AT-HD6004/ 6008
System
Operating System
Linux 2.6Â 
Start up Time
20 seconds (From power on to recording)
Operator Interface
English / Simplified Chinese/Russian
Storage
2.5" Hard Disc Drive or SSD (up to 2TB), SD Card (up to 128GB)
Video System
H.264 Main/High Profile, HD 1080p30/720p30 Recording for each channel
Voltage Input / Output
Input: 8 V ~ 32 V DC, Output: 12V/1.5A (4 channels)
Video
Video Input
Maximum 8 x 1080p30/720p30 camera inputs
Live Video View
PC/Note book/iPhone/iPad/Android Pad/Android Phone
Preview
1 image / 4 images
Standard Stream
ISO 14496-10
Recording Resolution
Selectable (1920x1080, 1280x720, 960x540)
Recording
Supports normal, schedule, alarm recording and continuous
Video Compression
H.264 (High profile up to level 4.1)
Max fps (total)
30fps@1080p/channel
Audio
Audio Input
4 channels
Audio compression
AAC (16bit, 48KHz)
 Interface I/O
LAN
 RJ-45  10M/100M Ethernet port 
USB
Supports USB 2.0 for U-Disk recording
Serial
RS-232×1
Network
WiFi
Build in 802.11b/g/n AP, speed up to 300Mbps
Protocolo
TCP/IP
Communication
4G/3G/EDGE/GPRS/CDMA (Optional)
Alarm & Sensor
Inputs
3 Alarm input, 1 ignition, 1 Panic button, G-Sensor
Outputs
1 Beeper, Alarm LED, Email
Multi-mode
Activation by video loss, maximum permissible speed, Collision, SD space, Video Motion, etc..
Power Supply
Ignition key
Recording starts when ignition is on, stops with delay time when ignition is off.
Power Consumption
Average 2.0W (without SD/SSD/HDD and without providing power for the cameras)
Physical Characters
Dimension
14.3cm x 13.2cm x 3cm (5.63 "x 5.2" x 1.18 ")
Weight
1.08kgs 
Others
Backup
By WiFi (300Mbps, Actual download speed up to 150Mbps)
Clock
Internal, permanent calendar, Time sync from GPS (if available)
GPS
External GPS module (Optional)
Function Dual Streaming
Allows you to configure the frame rate of different transmission frame rate recording and bandwidth control
Self-protection
Protection against overload, short circuit and reverse polarity
Reset
Option to return to factory default setting
Storage memory
2.5"SSD/HDD x1, SD card x 1, USB 2.0 x1
LED's
Indicates Power, RUN, Alarm, Media Access, Recording status, network and 3G
Method of writing and reading of data
Overwrite ON/OFF selectable
Synchronization time
GPS Time Synch / NTP (Network Time Protocol) Time Synch via networking
Environment
Operating Temperature
 -10 ~ 60°C  
Relative humidity
 5% - 95%
Vibration resistance
 < 3 Grms
Resistance to mechanical shock
 < 1200 Grms
Embedded Software
Config. FPS per channel
allows (1~30fps)
ID records vehicle license plate
allows
USB
Record, Backup
Rename channels
allows
Watermark
fixed
Schedule
Settings year, month and hour
Image Playback
Includes date and time, latitude and longitude, vehicle speed, and vehicle ID plate and name or channel number
Playback Speed
Speed forward 1x ~ 16x

Anted Electronics Works with "Super Quality, Satisfactory Services"
All the products from Anted Electronics are tested by our QC before being stocked, and most of the hot products are in stock, making it possible to ship within 48 hours for sample, bulk order based on the quantity.
 
Cheap Electronics Below Wholesale
Anted Electronics offers you competitive wholesale / drop ship prices. Anted Electronics will be the best choice for customers who has his own business. Preferential price is also provided to our regular customers. No minimum quantity request! The more quantities you order, the more discounts you will get.
 
Payment
We accept PayPal, western union and bank transfer (T/T)
 
12 Months Warranty
All products from Anted Electronics are provided with 1 year warranty . Refund, Return or Repair are acceptable according to different conditions.
 
OEM, ODM acceptable.
 
Fast Delivery
DHL,Fedex,UPS,TNT, EMS and Air Mail are available. Most of orders will be sent out within 2 business days. Before sending, all packages will be checked again to ensure their perfectibility. Usually, the lead-time is 3 - 5 days to the major worldwide countries.

Best 3G/4G Vehicle CCTV Solutions for car bus truck taxi

This system can be used for all kinds of vehicles such as Taxi, bus, coach bus, public bus, minibus, ambulance, TAXI, official vehicles, police cars, trucks, semi-trailers, engineering vehicles, school buses, pickup trucks, cement trucks, excavators, concrete mixers, private cars, road cleaning vehicles, sprinkler, patrol cars, sanitation trucks, garbage trucks, Armored vehicles, trains, subway, dump trucks, agricultural harvesting vehicles, military vehicles, ships, yachts, etc.

The 4/8CH HD Mobile DVR allows up to 4/8 true high definition (1920*1080) cameras to record the highest video quality. Each camera supports up to 1080p 30fps, ideal for capturing vehicle plate number.

 

Video live view or download through WiFi (built-in)

Administrative personnel can use a laptop/smart phone/iPad to connect to the DVR to view and/or download videos. Allow three authorization levels for security access.



Highlighted features with 3G/4G network

. Remotely Live view & GPS tracking on Google Map;

. GPS track playback;

. Geo-fencing with optional GPS receiver;

. One picture will be sent to server as well as email alert when an alarm is triggered;

. Reports for Speed, Alarm, Stop, Geo-fencing, Data flow, etc.

 

 

The smallest size for a 4/8-Channel Hard Drive DVR

Size of the 4/8CH HD Mobile DVR is very compact, only 5.63 "x 5.2" x 1.18 " Â ( 14.3cm x 13.2cm x 3cm ), allowing for exceptional versatility in mounting and installation. With a compact footprint and solid-state design, the 1080P High Definition Bus Camera Recorder can be mounted almost anywhere in any orientation.

 

 

Only 1.08 per unit with case!!

Weight of the 4/8CH HD Mobile DVR is very light due to its compact size. This will greatly save you shipping & duty costs, make your selling price unbeatable.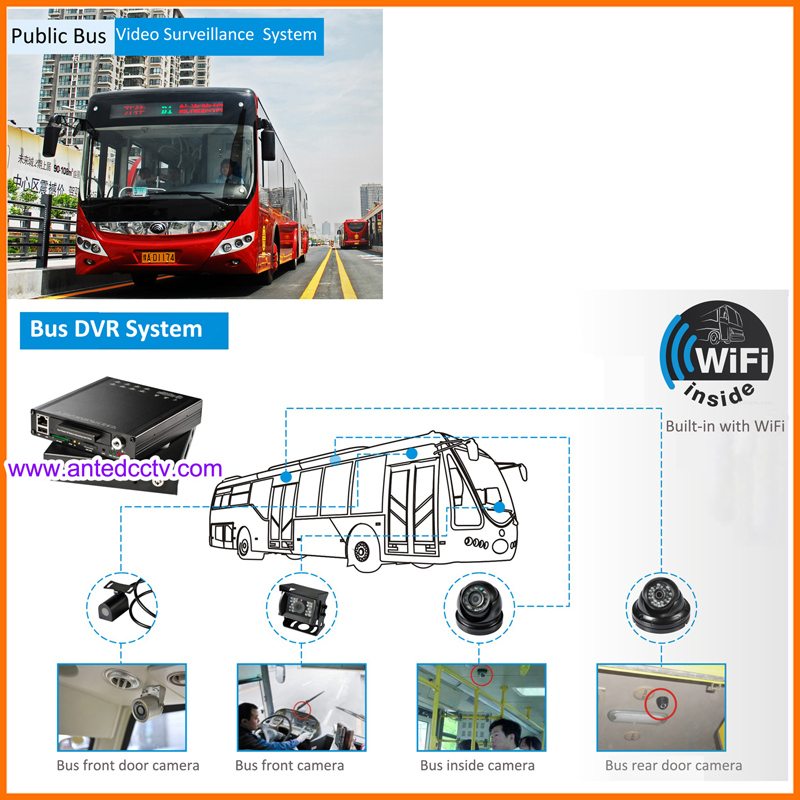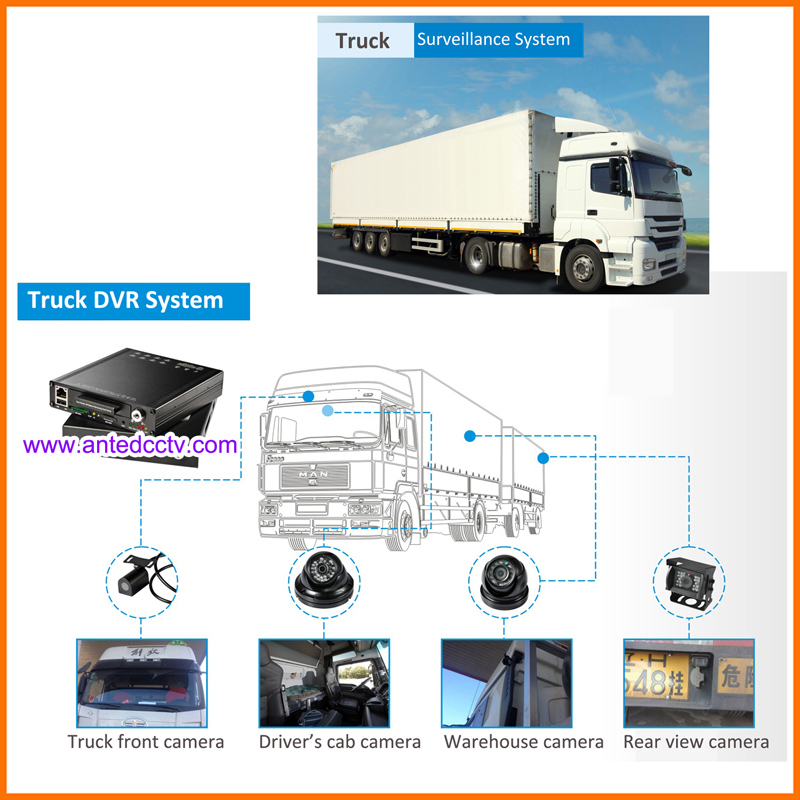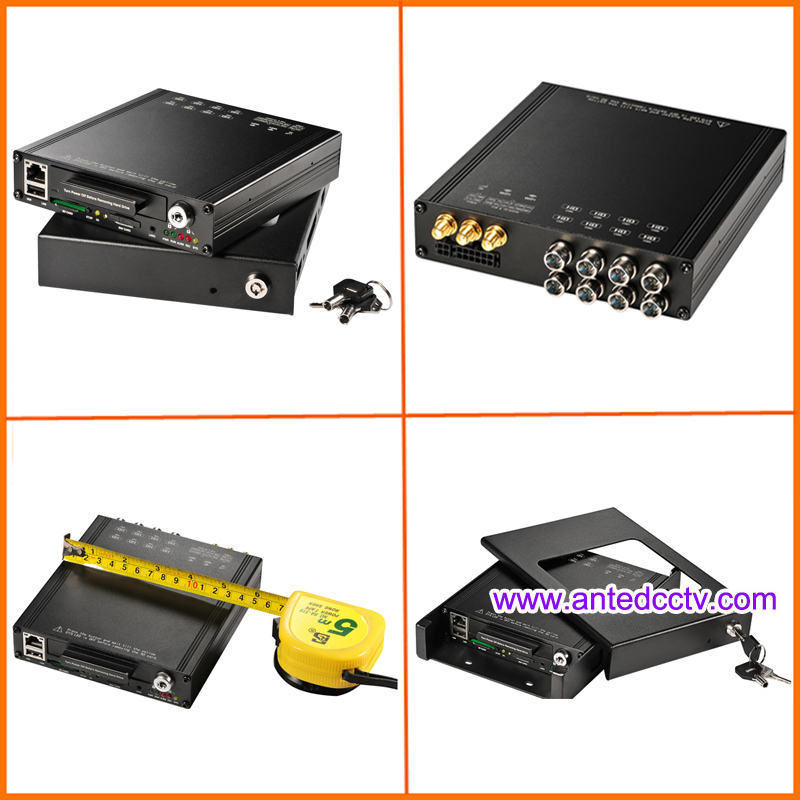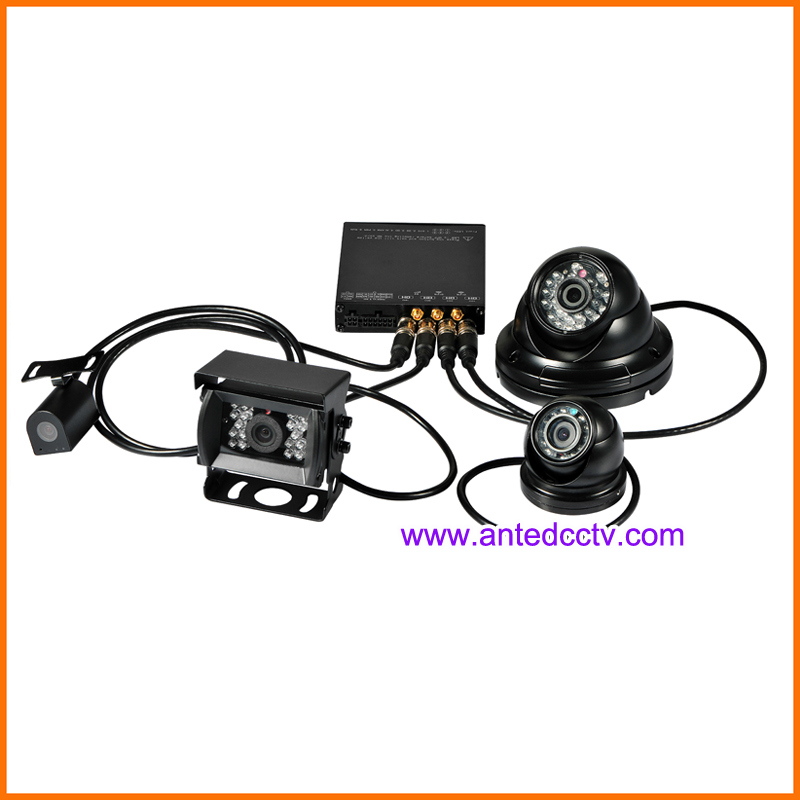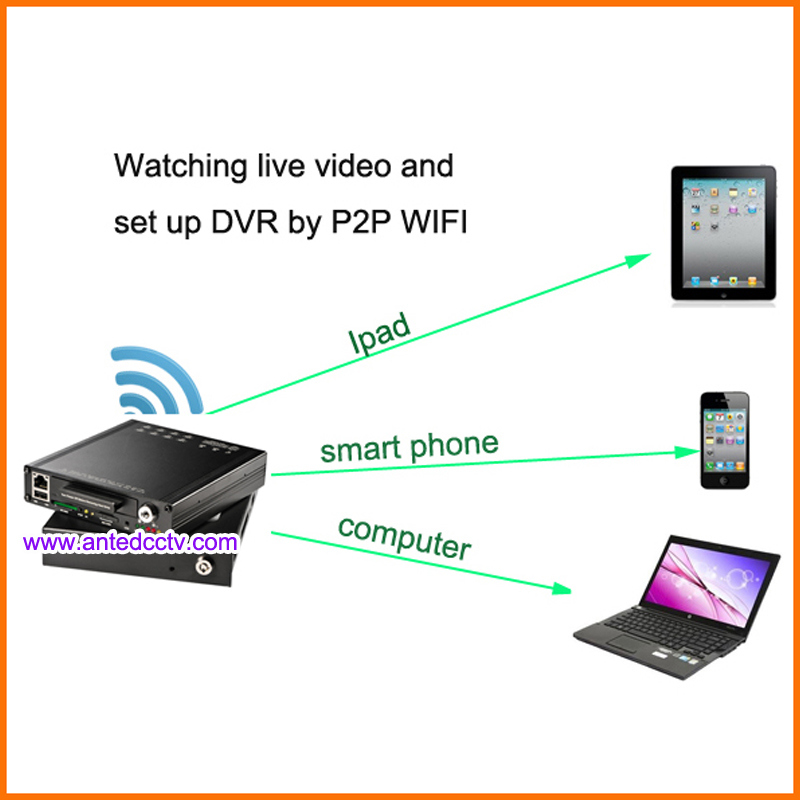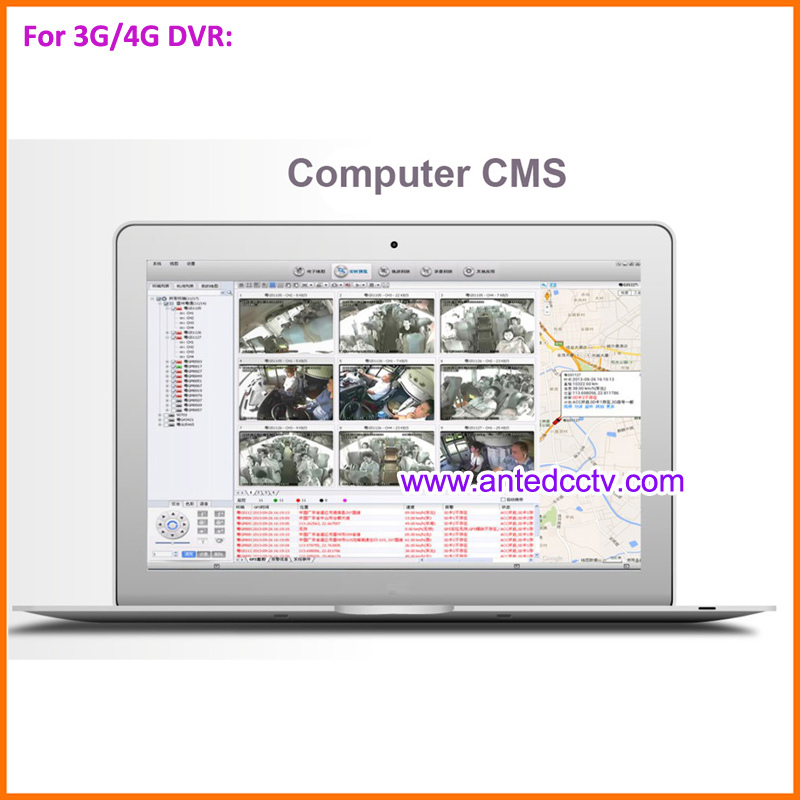 SPECIFICATIONS of 4/ 8 channel Hard Drive Mobile DVR
Model
AT-HD6004/ 6008
System
Operating System
Linux 2.6Â 
Start up Time
20 seconds (From power on to recording)
Operator Interface
English / Simplified Chinese/Russian
Storage
2.5" Hard Disc Drive or SSD (up to 2TB), SD Card (up to 128GB)
Video System
H.264 Main/High Profile, HD 1080p30/720p30 Recording for each channel
Voltage Input / Output
Input: 8 V ~ 32 V DC, Output: 12V/1.5A (4 channels)
Video
Video Input
Maximum 8 x 1080p30/720p30 camera inputs
Live Video View
PC/Note book/iPhone/iPad/Android Pad/Android Phone
Preview
1 image / 4 images
Standard Stream
ISO 14496-10
Recording Resolution
Selectable (1920x1080, 1280x720, 960x540)
Recording
Supports normal, schedule, alarm recording and continuous
Video Compression
H.264 (High profile up to level 4.1)
Max fps (total)
30fps@1080p/channel
Audio
Audio Input
4 channels
Audio compression
AAC (16bit, 48KHz)
 Interface I/O
LAN
 RJ-45  10M/100M Ethernet port 
USB
Supports USB 2.0 for U-Disk recording
Serial
RS-232×1
Network
WiFi
Build in 802.11b/g/n AP, speed up to 300Mbps
Protocolo
TCP/IP
Communication
4G/3G/EDGE/GPRS/CDMA (Optional)
Alarm & Sensor
Inputs
3 Alarm input, 1 ignition, 1 Panic button, G-Sensor
Outputs
1 Beeper, Alarm LED, Email
Multi-mode
Activation by video loss, maximum permissible speed, Collision, SD space, Video Motion, etc..
Power Supply
Ignition key
Recording starts when ignition is on, stops with delay time when ignition is off.
Power Consumption
Average 2.0W (without SD/SSD/HDD and without providing power for the cameras)
Physical Characters
Dimension
14.3cm x 13.2cm x 3cm (5.63 "x 5.2" x 1.18 ")
Weight
1.08kgs 
Others
Backup
By WiFi (300Mbps, Actual download speed up to 150Mbps)
Clock
Internal, permanent calendar, Time sync from GPS (if available)
GPS
External GPS module (Optional)
Function Dual Streaming
Allows you to configure the frame rate of different transmission frame rate recording and bandwidth control
Self-protection
Protection against overload, short circuit and reverse polarity
Reset
Option to return to factory default setting
Storage memory
2.5"SSD/HDD x1, SD card x 1, USB 2.0 x1
LED's
Indicates Power, RUN, Alarm, Media Access, Recording status, network and 3G
Method of writing and reading of data
Overwrite ON/OFF selectable
Synchronization time
GPS Time Synch / NTP (Network Time Protocol) Time Synch via networking
Environment
Operating Temperature
 -10 ~ 60°C  
Relative humidity
 5% - 95%
Vibration resistance
 < 3 Grms
Resistance to mechanical shock
 < 1200 Grms
Embedded Software
Config. FPS per channel
allows (1~30fps)
ID records vehicle license plate
allows
USB
Record, Backup
Rename channels
allows
Watermark
fixed
Schedule
Settings year, month and hour
Image Playback
Includes date and time, latitude and longitude, vehicle speed, and vehicle ID plate and name or channel number
Playback Speed
Speed forward 1x ~ 16x

Anted Electronics Works with "Super Quality, Satisfactory Services"
All the products from Anted Electronics are tested by our QC before being stocked, and most of the hot products are in stock, making it possible to ship within 48 hours for sample, bulk order based on the quantity.
 
Cheap Electronics Below Wholesale
Anted Electronics offers you competitive wholesale / drop ship prices. Anted Electronics will be the best choice for customers who has his own business. Preferential price is also provided to our regular customers. No minimum quantity request! The more quantities you order, the more discounts you will get.
 
Payment
We accept PayPal, western union and bank transfer (T/T)
 
12 Months Warranty
All products from Anted Electronics are provided with 1 year warranty . Refund, Return or Repair are acceptable according to different conditions.
 
OEM, ODM acceptable.
 
Fast Delivery
DHL,Fedex,UPS,TNT, EMS and Air Mail are available. Most of orders will be sent out within 2 business days. Before sending, all packages will be checked again to ensure their perfectibility. Usually, the lead-time is 3 - 5 days to the major worldwide countries.

Melamine Door Skin is one of our factory` hot sale. It mass produced with low price, good quality and excellent after-sale service. Applicated in Interior Door, flush door, Exterior Door. So, Melamine Door skin is indeed an alternative for economical house projects.

High density, standard moisture.
No shrink, no split, great compatibility.
Green, healthy, waterproof and fire-rated.
Melamine Door

Retractable Melamine Door, Prefinished Interior Doors, Rustic Interior Doors, Unfinished Interior Doors

Zhejiang JiHengKang (JHK) Door Industry Co.,LTD , http://www.zjjhk.com